Heeva Cafe Kebab
One of The Best Restaurants In Tehran Is Heeva Cafe Kebab , In This post I want to introduce Heeva Cafe Kebab Restaurant .
This restaurant has delicious food. The view of this restaurant is very nice and hearty. If you want to have delicious and grilled food, be sure to visit this restaurant.I went to Heeva Cafe Kebab for dinner after my visit to  Sa'd Abad Complex . The environment is comfortable for me to rest my mind after one whole day of sightseeing. The service of the restaurant has good standard. They served me welcome drink and soup before taking my order. I ordered lamb ribs. It was really tasty. The softness of the meat is just nice.
What is Shishlik ?
Shashlik or shashlyk or Shishlik (Crimean Tatar: şışlık, from Crimean Tatar: şış — spit), is a dish of skewered and grilled cubes of meat, similar to or synonymous with shish kebab. It is known traditionally, by various other names in the Caucasus and Central Asia, and from the 19th century became popular as shishlik across much of the Russian Empire.
---
Details
PRICE RANGE :
IRR 208,333 – IRR 500,000
SPECIAL DIETS :
Vegetarian Friendly, Vegan Options, Halal, Gluten Free Options
MEALS:
Lunch, Dinner, Brunch
CUISINES:
Middle Eastern, Persian
FEATURES:
Delivery, Takeout, Reservations, Seating, Highchairs Available, Wheelchair Accessible, Free Wifi, Table Service
---
Rating
#1 of 731 Restaurants in Tehran
Food : 4.5
Service : 4.5
Value : 4.0
---
Location and contact
81 Shahid Darbandi Tajrish Square, Tehran 11369 Iran
Call : +98 21 2226 6444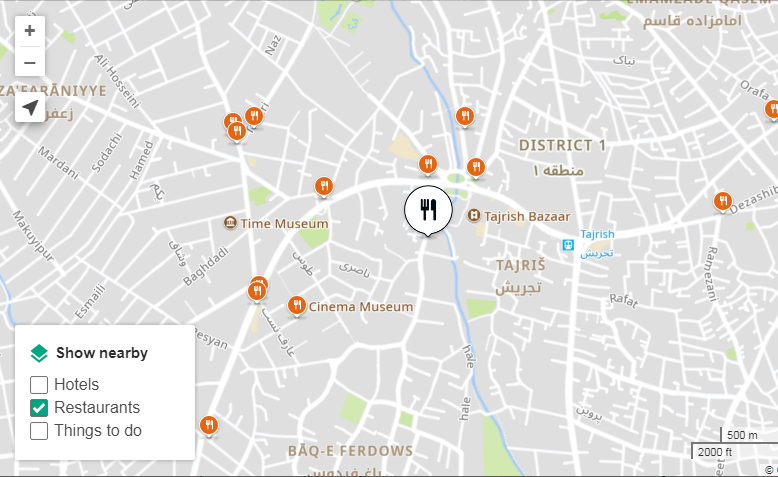 ---